DENYS SMITH
As a betting man, it is difficult time when a familiar trainer ,jockey or horse from the racing faternity passes away.
They bring us so much enjoyment and frustration, but we would not be without them.
Feel free to add more or your own experiences.
There are many to remember, but it was Denys Smith's passing recently that made me think of this.
I have borrow some information from the RP that shows just what a character this chap was.
RIP -Denys.
Grand old man of sport whose grasp of racing remained pin-sharp
By Steve Dennis 12:31pM 15 NOV 2016
Originally published August 2014: Steve Dennis talked beer, whisky and snowploughs with the Grand National winner Denys Smith, who has died aged 92.
SOME trainer, this man. Not only did he train nearly 1,800 winners, he also trained himself. A truly self-made individual, Denys Smith looks out of the window of the house in which he has lived these last six decades, seeing not the lines of new-build houses but the boxes they replaced, with a horse looking out of each one.
This month Smith turned 90, no longer just one of racing's elder statesmen but one of the last remaining links to that foreign country where they did things differently.
He may not stride so confidently around the room as he did in his younger days, but his mind is pin-sharp and his recollection of names and events would delight any archivist. They emerge from him in a relentless flood of stories, the past coming to life in the hands of this practised raconteur.
Where to begin? Is the beginning when Smith left school at 14, the fog of war already coalescing forbiddingly on the horizon? "I got a job within a week as a motor mechanic at a garage in Aycliffe, where I lived," he says. "I earned six shillings a week, had a two-shilling rise the following year and then the war started.
"I came home one evening to find the house being requisitioned for the war effort - all the farms on the estate were in the same boat and we had six weeks to pack up and get out."
While his former home did its bit for the allies, Smith followed suit, quickly finding a new job - "this one was a shilling an hour, talk about a pay rise" - working on tractors and in the middle of a vicious north-eastern winter his role expanded to include the vital task of ensuring munitions workers could get to their factories.
Ploughing through the snow
"We had to keep the roads clear and I did 156 hours in one week snowploughing," he says and although the numbers make one pause the story quickly overtakes any mild mathematical scepticism.
"One night we took four tractors and snowploughs out towards Sedgefield - first one broke down, then another, and by the time we reached Sedgefield station we'd lost them all, the snow had come in behind us and covered everything up again.
"We had to walk home and of course we got lost in the snow and two of the team were old guys with just clogs on their feet. Then someone saw a light and it was an Army hut. We went in and got four pint pots of tea and four big doorsteps of bread and jam to pull ourselves together, then walked the six miles back to Aycliffe.
"It was 5am when we got back and the boss was delighted to see us, thought we were lost forever in a snowdrift. 'Go home and get some sleep' he told us. 'Be back to start again before nine, mind ...'"
Smith grins, gets up, potters out of the room to fetch something. His daughter Susan - secretary at Catterick racecourse - also has a smile on her face. "I've never heard that one before," she says. "I thought I'd heard all his stories but he keeps surprising me."
Our man of surprises emerges from his old office, lined with photographs of horses great and good and also ordinary, clutching a sheaf of papers. The first one in the pile has a photograph of a good-looking fellow sitting in a sulky with reins in his hand and a big grey trotter named Colliers at the other end of them. This is another beginning.
Smith, who got into cattle-dealing after the war, found his calling when he married Jean Richardson, whose father Bert was a great trotting man. Horses were a mystery to Smith, but his father-in-law saw that as no barrier to success.
"I said I'd never even put a bridle on a horse, but he told me that didn't matter and I'd have to learn," he says. He learned fast. "I'd been a decent runner at school, so thought I'd try to train them like I trained myself. At that time I had just the one big field, so that's what I used, going around that time and again."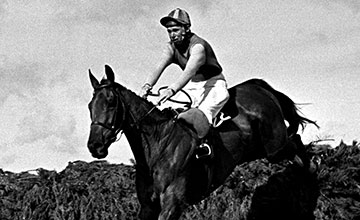 Red Alligator: Won the 1968 Grand National
PICTURE: PA
Starting out
The exploits of Betty, Colliers and the much-vaunted ex-German Master Richard pushed Smith towards the higher branches of the trotting tree in the mid-1950s, but he lost his appetite for the sport when Master Richard was unfairly disqualified after winning at Musselburgh. He dropped trotting overnight, but by now horses were in his blood and Smithneeded little encouragement to try a different tack.
"I was asked if I wanted to buy a point-to-pointer and that was Owen's Mark," he says. "He was second in a couple of points and the next season a pal of mine said instead of running for £20, I should take out a licence and run for £200. I did and second time out Owen's Mark won at Sedgefield - my first horse, my first winner.
"Sadly, next time out Owen's Mark was killed at Doncaster, but the chap who owned him told me to find him another, so I did, won with it, got an order or two and just went from strength to strength.
"I started here with one box, then went to three, then added another, then a few more, then a few more and, by the time I ran out of room, I had 56 boxes, with 20-odd on another farm over at Shildon.
"I made my own gallops at Shildon, me and another chap cutting through hedges to clear a way. I had a couple of mile-and-a-half gallops going up left and right and later on I put in a six-furlong strip on the Flat for the two-year-olds."
Best of both codes
A GREAT career had begun, one that would soon embrace both codes, something entirely commonplace these days but at that time a groundbreaking initiative. In this respect Smith, never a man to let 'I dare not' wait upon 'I would', carved himself a niche in racing that even Grand National success and its corollary of the trainers' title could not improve upon.
"I was the first to do both, jumps and Flat," says Smith, pride evident in his tone. "I was always told that you could do one or the other, but no-one did both.
"I wanted to do it, no matter what anyone said, so I phoned the Jockey Club and they said there wasn't a rule against it, so if I wanted to go ahead it was all right by them.
"Wouldn't say I preferred one code over the other, treated them both the same. There was one big advantage, though - in those days jumps trainers used to lay off their staff over the summer, but when I went dual-purpose it meant I could keep all my good staff on, in the summer they had a couple of Flat horses, in the winter a couple of jumpers.
"Which is easier, training Flat horses or jump horses? I couldn't tell you - it all came naturally to me."
As did the winners, more than 1,700 of them - "almost 900 on the Flat, a little more than 800 over jumps" - with Smith the first man to train more than 50 winners in consecutive seasons, Flat and jumps. And, of course, one stood out from the rest. Barely 15 years after learning how to put a bridle on a horse, Smith trained Red Alligator to win the Grand National.
Winning the National
Smith produces a photograph of Red Alligator being paraded in front of the town hall in nearby Bishop Auckland, a vast crowd in attendance, Brian Fletcher - normally a fully paid-up member of the Lester Piggott and Ryan Moore school of public indifference - in the saddle with a smile cutting his face in two.
"Red Alligator was a big, lean horse, not a traditional Aintree type and he never had any leg trouble because there was no weight on him. He wouldn't jump post and rails to save his life, but he'd take on a big black hedge all right.
"He could have won three Nationals. In 1967 he got mixed up in the pile-up, and Brian remounted to finish third. He said he would have won. Then he won it in 1968, by 20 lengths, and the Denys Smith at the home where he has lived for the past six decades; (below) Red Alligator wins the 1968 Grand National under jockey Brian Fletcher following year he was brought down when still travelling strongly. His owner had him in a field up the road for years; in the end old age took him. He had a good life."
Smith's local pub is named after his most famous horse; some men may go to the pub to forget, but Smith goes there to remember.
He is in full flow now, the names and anecdotes tumbling over each other, horses such as Coronation Cup third Quayside (his best Flat horse) and his last star Karinga Bay, the brilliant but ill-fated hurdler Dondieu and Cheltenham winner King Cutler, men such as Captain Ryan Price and Sir Noel Murless, and nightclub owner Joe Lisle, whose Sixty Nine (named after his nightclub) won the Great Yorkshire Chase in that championship season.
Then there was Foggy Bell, whose 1969 Lincoln victory provided Smith with another line in the record books. "Only three trainers have won the Spring Double and I'm one of them," he says.
There were regrets along the way, of course. Smith never won the Northumberland Plate and although all trainers can tell sad stories about the loss of this horse or that, the demise of The Grey Bomber was particularly poignant given his immense talent and the one-in-amillion nature of his death. Unbeaten in five starts and favourite for the Triumph Hurdle, he was electrocuted after a storm had blown down cables into a puddle on the path that led to the gallops.
"It was him that was killed because he had to lead the string," says Smith. "He had to be in front, if he wasn't he jig-jogged through the string until he got to the front. It was a terrible job to phone the two owners with the bad news - one phoned back ten minutes later to make sure I wasn't pulling his leg."
THE stories draw slowly to an end, Smith reckoning that his decision to call it quits in 2002 was down to the travelling, too many more miles tacked on to a journey that had already taken him to the top.
Now 90 but for all the world a man at least ten years younger, Smith's grasp of racing is still as strong as ever. There is a stack of Racing Posts on the table, the television flits between the two satellite channels - Smith doesn't miss much, he never did. And although the advancing years have naturally restricted his boundaries, this most convivial man never misses a meeting at Catterick or Sedgefield.
"I used to go to Redcar every time as well, but that's a bit far for me now," he says. "Catterick for the Flat, Sedgefield for the jumps. I like a few drinks, I'm usually in the bar where it's nice and warm - my friends at Catterick like drinking beer and at Sedgefield I meet my whisky friends. Best of both worlds."
Best of both worlds, jumps and Flat; you might say that summed up Smith's career too. Men and women - not just at Catterick and Sedgefield but all over racing - can raise their glasses to this grand old man of the sport.
Grand National-winning trainer Denys Smith dies
By Peter Scargill 4:07PM 14 NOV 2016
DENYS SMITH, trainer of the 1968 Grand National winner Red Alligator, died on Sunday at the age of 92.
From his base in Bishop Auckland, Co. Durham, Smith sent out over 1,600 winners which included Group 1 wins on the Flat with Tudenham and Mandrake Major as well as a string of high-profile jumps victories.
Derek Thompson, who worked as assistant trainer to Smith, said on Monday: "Denys Smith was one of the finest trainers of his generation and I was honoured to have been his assistant trainer. I learned so much from him, as did so many others."
Smith began life as a taxi driver before taking out a licence to train. During his 45-year career he succeeded under both codes and was champion jumps trainer in the 1967-68 season, when Red Alligator provided him with nearly half his title-winning haul.
Approachable and well-respected as well as successful, Smith was honoured at Sedgefield racecourse in January with a special lunch to mark his yet-to-be-bettered total of 145 wins at the track.
'Proper horseman'
His friend Harvey Smith, the husband of trainer Sue Smith, took part in the celebrations at Sedgefield and said: "He was a great friend of mine and I used to call him my dad. He was a lovely old boy and he used to go to Catterick for every meeting and he was there not that long ago.
"He's been a very good man for racing. Everybody loved him and he was down to earth and a tough chap. He was a proper horseman and he came up through the ranks. He was a top man."
Smith's willingness to give people a chance was fondly recalled by trainer Chris Grant, who rode as stable jockey to Smith for a number of years.
He said: "He was a top, top man and he's the reason I'm doing what I'm doing now. I worked for him for a lot of years and he got me going and we had a lot of success together.
"He was a fair man and gave everybody a chance. When you look at his record it's just phenomenal and it's a sad loss for racing."
Smith is survived by his son Richard and daughter Susan, grandchildren Melanie, Caroline, Royce and Richard and three great-grandchildren.
Last edited: